Author Culture Tribe / Category Collagen Recipes / Published: Sep-05-2021
Collagen Powered Sweet Potato Casserole
Ready in 60 minutes
Serves 8 people                     24g Protein
651 calories
56g Sugar
78g Carbohydrates
Tools Needed:
9x13 baking dish, measuring spoons & cups, mixing bowls, potato masher or handheld mixer.
Ingredients
For Sweet Potatoes
Cooking Spray
4 c. large sweet potatoes, peeled & cubed
½ c. brown sugar
8 tbsp butter (1 stick), melted
1 tsp vanilla extract
2 scoops Collagen
½ c. milk
2 eggs
½ tsp kosher salt
For Streusel Topping
1 c. brown sugar
½ c. all-purpose flour
4 tbsp butter, melted
1 c. chopped pecans
2 ½ c. mini marshmallows
Preparation
Preheat the oven to 350° and grease a 9x13" baking dish with cooking spray. Place sweet potatoes in a large pot and cover with water. Bring to a boil then reduce heat and simmer until the sweet potatoes are tender, about 15 min. Drain and let cool slightly then transfer to a large bowl.
In a large bowl, stir together sweet potatoes, sugar, butter, vanilla, collagen, milk, eggs, and salt until smooth. Pour into prepared dish.
In a medium bowl, stir together sugar, flour, and butter until it clumps. Stir in pecans, then spread evenly over potatoes. Top with marshmallows.
Bake until cooked through and golden, about 30 min.
Serve and Enjoy!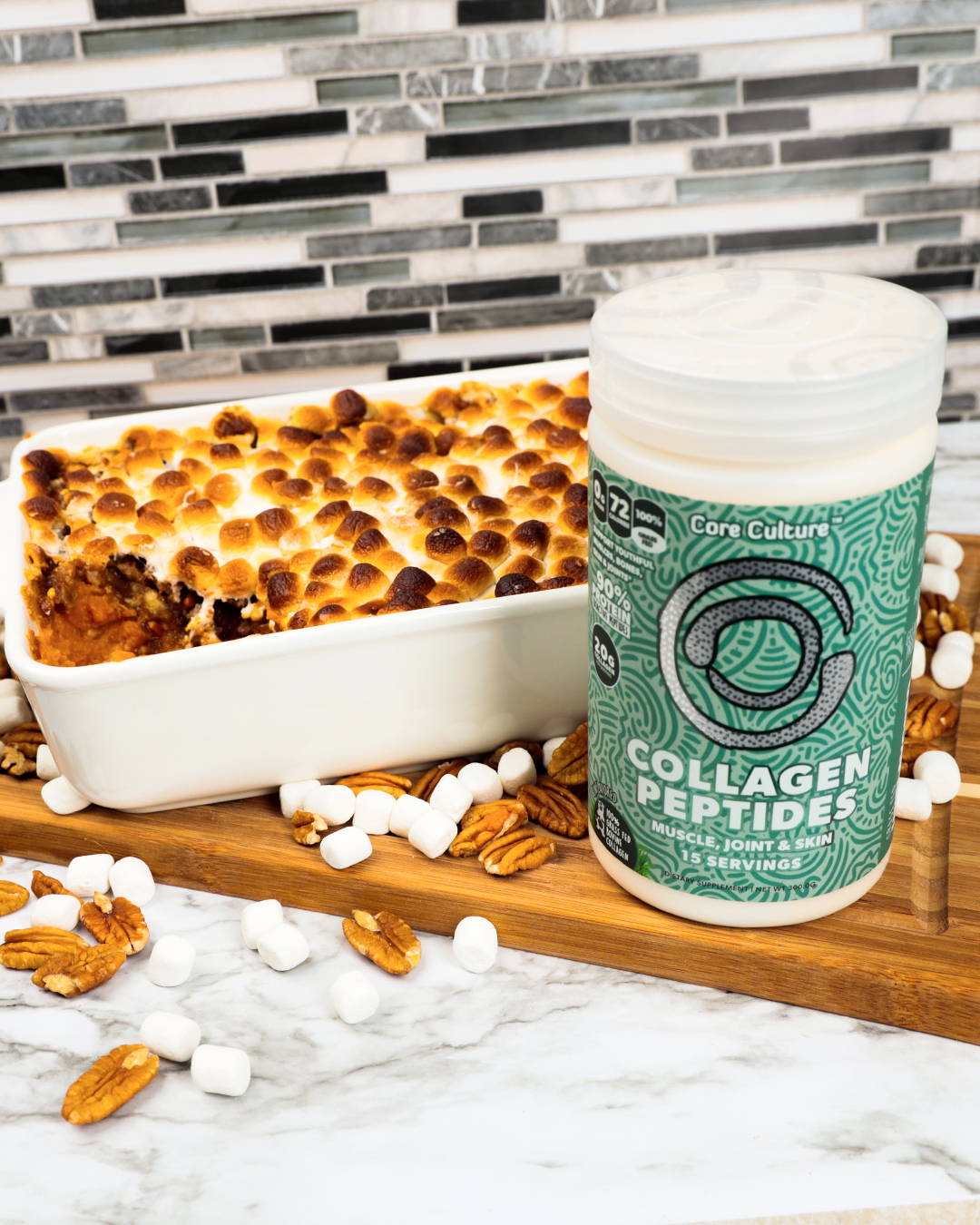 A sweet escape for any holiday!
— Culture Tribe