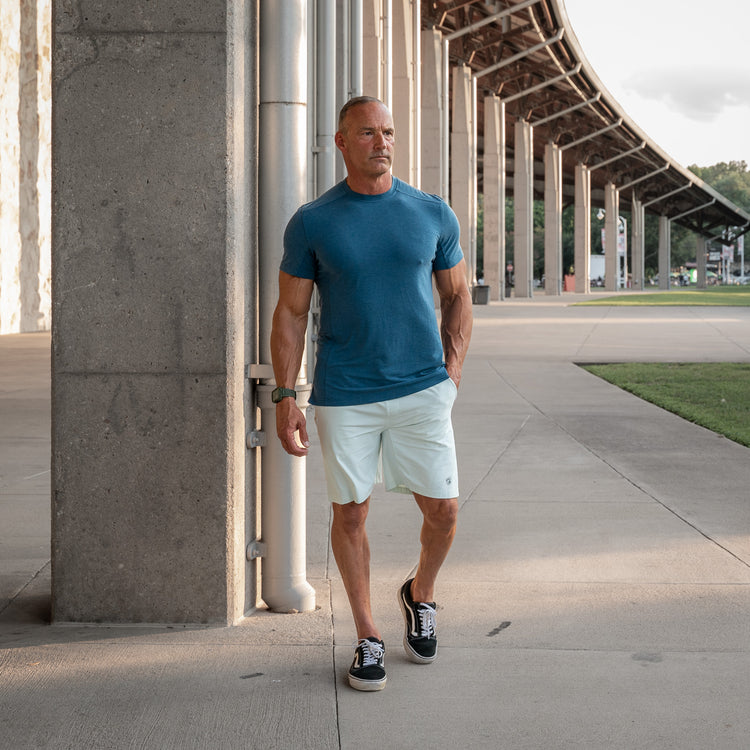 Men's Athletic Apparel
Are you looking for stylish and sustainable apparel that aligns with your active lifestyle? Look no further! We are excited to introduce our cutting-edge men's apparel line, combining fashion, function, and sustainability to elevate your fitness journey. 
Elevate Your Workout Experience
Our men's apparel line is meticulously designed to cater to the needs of health-conscious individuals like you. Whether you're hitting the gym, heading out for a run, or simply embracing an active lifestyle, our collection has got you covered. And our prices offer the best deals you can get. 
Stay Fresh With Sweat-Wicking Technology
Say goodbye to discomfort caused by sweat during your intense workouts. Our selection of moisture-wicking shirts for men guarantees to keep you dry and comfortable, even during the most challenging sessions. From the moisture-wicking shorts for men to our form-fitting shirts, our apparel is engineered to wick away sweat. Stay cool and confident throughout your activities with these short sleeve button-ups.
Versatile Style for Every Occasion
These woven tech pants seamlessly transition from your workout to your daily routine. And that's not all. We've got everything you need. Our range includes everything from men's woven shorts to joggers. These pieces are not only tailored for performance. They also exude a sense of style that effortlessly complements your active lifestyle.
Quality Craftsmanship, Sustainable Fashion
At Core Culture, we believe in quality without compromise. Our men's apparel line is not only about performance but also about making an eco-conscious choice. Our commitment to sustainability is evident in every piece. You can take pride in wearing ethically produced and environmentally responsible apparel. If you want to buy from a forward-thinking brand, here we are.
Unleash Your Confidence
With our men's woven and rain jackets, you're ready to face any weather while looking your best. It doesn't even matter if you don't carry an umbrella. These jackets offer both style and functionality. They ensure you remain dry and confident in a drizzle or a heavy downpour.
Experience the Best in Moisture-Wicking Innovation
Are you searching for the best moisture-wicking shirts for men? Look no further. Core Culture's men's moisture-wicking t-shirts are designed to meet your high standards for performance and comfort. Our form-fitting men's shirts embrace your physique while keeping you cool and collected. You should check out our men's short sleeve knit tee.
Shop Core Culture's Men's Apparel Line Today
Discover the perfect blend of style, comfort, and performance with Core Culture's men's apparel line. Elevate your workout experience, stay fresh with sweat-wicking technology, and make a statement with sustainable fashion. It doesn't matter if you're pushing your limits at the gym. Sometimes you may want to explore the great outdoors. Our collection is tailored to support your active lifestyle wherever you are, whatever you do.
We also have flexible payment plans that allow you to buy your favorite item in installments. Shop now and embrace the Core Culture difference – where innovation meets style in men's apparel. Your journey to optimal performance 
starts here
!
Use left/right arrows to navigate the slideshow or swipe left/right if using a mobile device