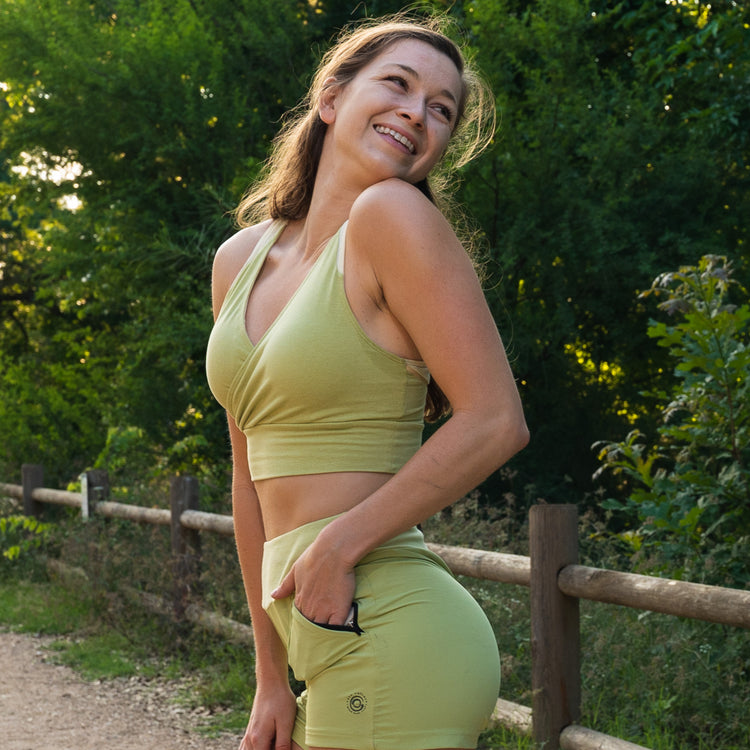 Women's Athletic Apparel
Women's Woven Short
Weekend Warrior Dog Park Date Cold Brew & Emails Form fit meets functionality  in our signature Woven Shorts.
Women's Zip-Up Fitted Jogging Hoodie
Power Walk Ready For Movement Go With The Flow Ergonomically designed to accentuate your body's natural curves and flow with even your busiest of days. 
At Core Culture, we're all about combining fashion and function to empower your active lifestyle. Our latest women's athletic apparel collection is carefully curated to boost your confidence and enhance your performance. It's also meant to keep you comfortable during your fitness activities.
Whether you're hitting the gym, finding your flow in yoga, or embracing the outdoors, our versatile pieces have you covered.
Stay Fresh and Confident
Experience a revolution with our innovative moisture-wicking shirts for women. Our state-of-the-art moisture-wicking technology leaves you feeling fresh and self-assured. These shirts are all about comfort and freedom of movement. They're designed to be your perfect companions for diverse fitness activities.
Embrace Your Active Lifestyle
Indulge in our gym booty shorts range for women and joggers, where style meets functionality. These pieces are designed to accentuate your natural curves and move with your body.
Our woven shorts offer unrestricted motion, from lunges to squats to intense training sessions. This is meant to empower you to embrace your dynamic lifestyle. You can pair these shorts with our women's high-waisted leggings for extra comfort and support during workouts.
Confidence and Support, All in One
Consider trying out our collection of women's wicking underwear. Our underwear is powered by advanced sweat-wicking technology and keeps you cool, dry, and confident throughout your workout.
Whether you're wearing woven or booty shorts, our underwear range offers unparalleled comfort and support. This is meant to restate your chafing concerns and elevate your self-assuredness. Consider adding our women's crossover bra or women's fitted bra for complete confidence and support.
Conquer Your Workouts
It's time to forget about sweat-related distractions and conquer your workouts head-on. Our sweat-wicking shirts for women are meticulously crafted to keep you dry and focused. These shirts expertly manage moisture, allowing you to stay dedicated to your fitness goals. And when you're headed outdoors, our women's woven hooded rain jacket offers protection without compromising style.
Experience Ultimate Comfort
Experience comfort with our women's underwear designed for active sweating. We prioritize comfort and moisture control. Our women's sweat-wicking underwear ensures you stay at ease during the most intense workouts.
Our underwear is designed for breathability, helping you power through your exercise easily. And when you're relaxing after a session, slip into our women's flow tank for the ultimate comfort.
Elevate Your Performance 
Elevate your workout experience with a gear that resonates with your objectives. Our gym booty shorts, high-waisted leggings, woven shorts, and sweat-wicking women's underwear redefine activewear. Layer with our women's zip-up fitted jogging hoodie for a stylish finishing touch, especially during cold weather.
Check Out Core Culture's Women's Athletic Apparel Today
In essence, our women's athletic apparel transcends the concept of mere clothing. It serves as a catalyst for unlocking your gym potential and achieving your fitness milestones. With cutting-edge sweat-wicking innovation, purposeful designs, and modern aesthetics, our collection bridges the gap between style and performance. Elevate your workouts and embrace an active lifestyle with Core Culture's women's apparel.
Use left/right arrows to navigate the slideshow or swipe left/right if using a mobile device